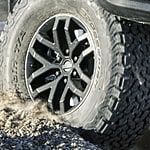 As one of the leading full-size pickups on the market today, the Ford F-150 has the tough features that make it well-suited for all kinds of driving. Choose it as a family vehicle or for a work truck that you can take out in the off-road. Learn why the new Ford F-150 is one of the toughest pickup trucks available to buyers today.
To start, it is made from military-grade aluminum and steel. Its body has the same material that the military uses to make its tanks, jets, and other vehicles. The F-150's tough body is built to withstand head-on and side impacts and also perform well even if you take it into rocky fields and muddy pastures.
It also has a fully boxed high-steel frame that, despite its looks, actually makes the new Ford F-150 lightweight and easy to handle. It provides stability in all kinds of driving conditions like snow and ice.